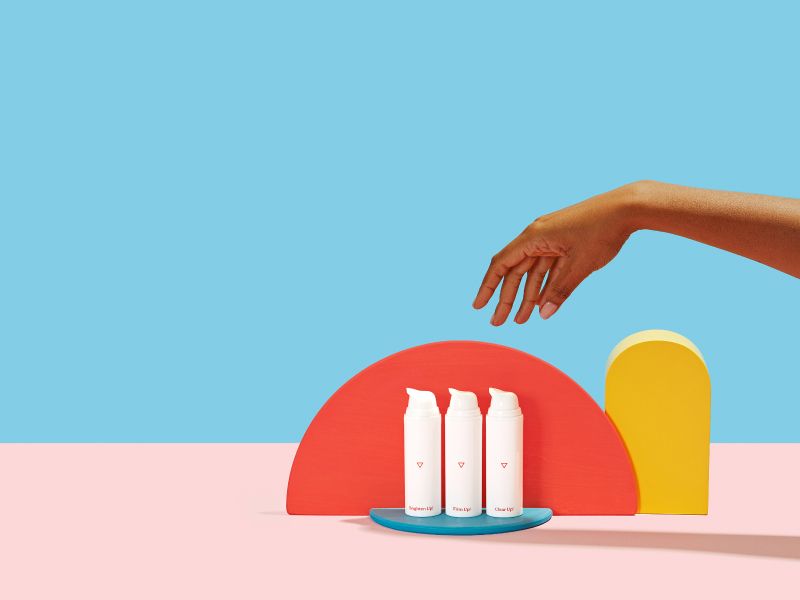 Prescription Skincare
Treatment Guide

How to Get Healthy, Glowing Skin
Did you know the average wait to get a skincare appointment is 33 days? Dermatologists are some of the most in-demand and least accessible doctors in the US. Since healthcare accessibility is kind of our thing, we're doing something about it. Wisp offers the same prescription ingredients you get at the dermatologist, delivered right to your door. Treat acne, wrinkles, fine lines, and dark spots from the comfort of home (no pants required).


What are retinoids?
Retinoids are chemical compounds derived from Vitamin A that help thicken and smooth skin over time when used consistently. They are not to be confused with retinol which, while also derived from Vitamin A, is far weaker and less effective than a prescription-strength retinoid. Tretinoin (also known by the brand name Retin-A) is a type of retinoid that is the only skincare ingredient clinically proven to treat signs of aging like wrinkles and fine lines. It works by speeding cell turnover so the skin appears smoother, plumper, and "glowier." Speeding up cell turnover also helps tretinoin treat acne as bumps and inflammation are replaced with fresh, clear skin.


How to get healthier skin with prescription skincare
We're making it quick and easy to address the most common skincare concerns by offering prescription treatment for:
How to treat acne
Acne affects people of all ages. Although it's strongly associated with teens and the onset of puberty, many of us continue to experience annoying breakouts well into our twenties. Learn more about Acne Cream TreatmentOr maybe you've had clear skin for your whole life, but start breaking out for the first time in your mid-twenties and thirties. Whatever the case may be, figuring out your acne can be frustrating, painful, and expensive. But we do know one of the most common culprits of adult acne: hormones.
Birth control pills are one common treatment for hormonal acne and they work really well for many people, but some patients find that birth control just doesn't work for them—they may experience further breakouts or other side effects that make it difficult to keep taking the pill. This is where a prescription acne treatment can come in. Wisp's Acne Cream contains two proven, prescription-strength acne-fighting ingredients:
Clindamycin: This antibiotic kills the bacteria on the surface of your skin that cause the characteristic inflammation, redness, and pustules of acne.
Tretinoin: Also known by its brand name Retin-A, tretinoin increases cell turnover to reveal clearer, brighter, and smoother skin.
Together, these ingredients act as the perfect acne-fighting duo, clearing away bacteria and allowing glowing skin to shine through.
To get Prescription Acne Cream, simply place an order online. Answer a few quick questions and a board-certified dermatologist will review and prescribe treatment if it is considered safe and appropriate.


How to treat fine lines and wrinkles
At wisp, we don't think "aging" is a dirty word, but we think you should be the one who decides how much of that age shows on your skin. If you're not quite ready for the wrinkles you're seeing in the mirror, our Wrinkle Firming Cream can be your new best friend.
The key ingredient in Wrinkle Firming Cream is dermatologist-recommended tretinoin. It's been used since the 1960s to treat acne and is the only ingredient clinically proven to treat signs of aging.
Using Wrinkle Firming Cream consistently every night is the best way to see results quickly. Wisp's formula includes 0.04% tretinoin, a concentration that maximizes results while minimizing uncomfortable side effects like flaking, redness, and irritation. Remember: consistency is key! Getting the skin results you're looking for doesn't happen overnight, but staying consistent with treatment will deliver that smooth, glowing skin you crave.
Tretinoin has some serious anti-aging power so it's very important to use a sunscreen with an SPF of at least 30 every day when you're on tretinoin (yes, even on cloudy days!). Tretinoin makes your skin more sensitive to UV rays so you'll burn more quickly and end up undoing the benefits of your skincare regimen if you forego consistent SPF application.
To get Wrinkle Firming Cream, simply place an order online. Answer a few quick questions and a board-certified dermatologist will review and prescribe treatment if it is considered safe and appropriate.


How to treat melasma and acanthosis nigricans
Melasma is incredibly common and often occurs during pregnancy—15-50% of pregnant people are affected by melasma. Hydroquinone is a chemical compound that can lighten dark spots caused by melasma or hyperpigmentation from acne scarring. It's dermatologists' top choice for hyperpigmentation, but it's important to use this cream properly, following precautions and heeding the advice of doctors.
Hydroquinone for the body] can also be used on areas of the body to even skin tone and treat acanthosis nigricans, a very common skin pigmentation condition that appears as dark patches of skin with a thick, velvety texture. It typically affects people who have diabetes or prediabetes, but can affects those with other medical conditions as well, such as:
PCOS
Metabolic syndrome
Endocrine disorders
Genetic Syndromes
Malignancy or cancer
Autoimmune disorders
Acanthosis nigricans can also present as a side effect of certain medications. Hydroquinone is a safe way to treat acanthosis nigricans, and lighten dark areas located in the underarms, groin, and anus.
Hydroquinone Cream is clinically formulated to fight hyperpigmentation caused by acne, sun damage, or hormonal changes. The key ingredients are:
Hydroquinone 5% for fighting dark spots
Vitamin C 1% for extra glow
Niacinamide 4% for soothing and moisturizing


You can also use Hydroquinone Cream in combination with either Acne Cream or Wrinkle Firming Cream to maximize glowing, clear skin!
Always listen to the advice of your doctor. Remember that skin damage from age spots, sun damage, or acne scarring is deep, and there is no easy way to reverse it. It takes time for the pigmentation to come close enough to the surface for the creams to have an effect. Use the cream as suggested, but do a constant check to see how your skin reacts. Don't overuse it, and take a break after 3 months.
To get Hydroquinone Cream, simply place an order online. Answer a few quick questions and a board-certified dermatologist will review and prescribe treatment if it is considered safe and appropriate.
We're making it easy to get healthy, clear skin without having to wait for an appointment with a dermatologist. After completing a 2-minute form, our doctors will review and prescribe the care you need, all without ever having to leave the house. We'll deliver your treatment to your front door in 2-3 days, for free!